MyAWI is a secure platform that allows patients to view and share images with family and friends.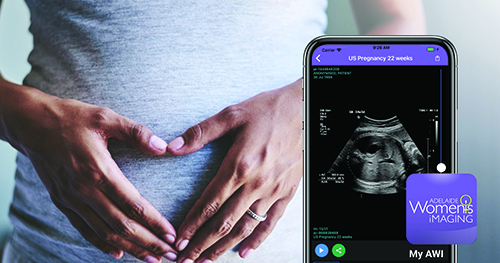 You will receive an SMS shortly after registering at reception for your appointment. Simply click the link in the SMS to activate your MyAWI account. Once activated, you will be directed to download the app from the Apple App Store or Google Play.
Alternatively, use the MyAWI weblink to access your images on any PC or Mac.
After your appointment you will receive an in-app notification when your images are available to view.
MyAWI is ideal if you…
Are pregnant – share your precious baby scan with family and friends
Travel – have your scans instantly available anywhere in the world
Suffer from a long-term medical condition and need your imaging history
Need to share with other health professionals such as physiotherapists or chiropractors
MyAWI App Frequently Asked Questions
Will I be able to see my medical imaging report in MyAWI?
A medical imaging report is provided separately to your referring Doctor. MyAWI provides image review only.
I don't want to know the gender of my baby(s), will this be obvious on my scans?
We support your decision with regard to knowing the gender of your baby. For families that wish to know, we routinely save an image of the gender. If families don't want to know, the Sonographer will ask you to look away for those parts of the scan and will withhold from saving gender specific images. Despite all our efforts, in some cases the gender may be demonstrated on diagnostic images and may lead to an unavoidable gender reveal.
I can't identify the detail in all the images, is this normal?
Your Ultrasound scan is a medical test performed for your referring Doctor by Specialist Sonographers. We do not expect you will identify all the images in your scans. If you have concerns regarding aspects of your scans/pregnancy, please discuss with your referring Doctor or speak with our team.