A Saline Sonohysterogram / HyCoSy is an ultrasound technique which involves the assessment of the uterus and fallopian tubes.
During a transvaginal ultrasound (an internal examination) fluid is injected into the uterus through a fine tube, placed in the cervix. HyCoSy uses aerated saline or ExEm foam (contrast agent) to outline the fallopian tubes and check for blockages.
Common reasons for having this test include:
Investigation of abnormal menstrual bleeding.
Assessment of fibroids or polyps.
Investigation of subfertility or recurrent miscarriages.
Defining congenital abnormalities of the uterus.
Before Your Scan
You should not have the procedure if there is any possibility of pelvic infection or pregnancy. A pregnancy test will be performed prior to the procedure. If you have history of pelvic infection, you will be asked to take a course of antibiotics, which should be prescribed by your referring doctor. The procedure is usually performed on day 5 – 10 of your menstrual cycle. We will ask for information about your menstrual cycle during the booking process to help with the timing of the procedure.
Nurofen is recommended to help with the procedure, it also has the benefit of minimizing discomfort. A single dose of Nurofen or Naprogesic (2 tablets) one hour prior to the procedure is therefore recommended. If you are unable to tolerate anti-inflammatory medications, Panadol or Panadeine may be substituted.
If possible, please wear comfortable, loose-fitting clothing that allows easy access to the area that is being imaged. Two-piece clothing is ideal (separate upper/lower garments).
Please empty your bladder 2 hours before the examination time. Then slowly drink 600ml of water to fill your bladder and keep it full for your examination.
Procedure
When you visit Adelaide Women's Imaging (AWI) for a HyCoSy, you will be greeted by one of our friendly reception staff. A sonographer will then collect you from the waiting room and take you to the ultrasound room. The sonographer will perform an initial assessment of the pelvis with transabdominal (through your abdomen) and transvaginal (internal) ultrasound. A urinary pregnancy test will then be done.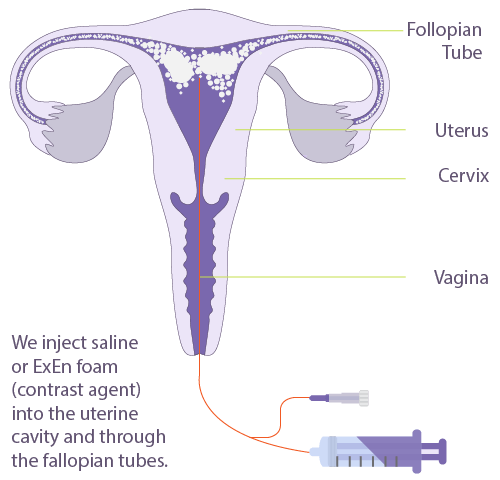 Once the ultrasound is complete, your legs will be placed in stirrups and a speculum (a medical instrument to separate the walls of the vagina) will be placed in the vagina by the doctor. The cervix is washed with antiseptic, and a fine tube (catheter) is then passed into the cervix. Once the catheter has been placed, the speculum is removed, and the ultrasound vaginal probe is reinserted. A small amount of warmed saline or ExEm foam is then slowly injected and ultrasound images are taken. It may take a few minutes to obtain all the information required. The probe and catheter are then removed.
After Your Scan
Other than mild discomfort, complications are rare. Some women may experience faintness or nausea. Pelvic infection following procedure is extremely rare, but you should report any symptoms of pain, tenderness, fever or excessive vaginal discharge to your doctor. Following the procedure, a watery vaginal discharge, which may be dark or blood-stained, may be present for a day or so.
Should you be concerned about your symptoms, phone our clinic on 8193 9522 or contact your Gynaecologist or General Practitioner.
Duration
The procedure will take approximately 1 hour, but some of this time is reserved for preparation.
Are you ready to make your
Saline Sonohysterogram / HyCoSy

appointment?